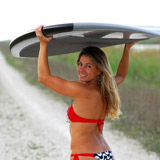 SNI: You are the #1 female stand-up paddleboarder (SUP) on the east coast. What's the 'secret' to your success?
Helga: Wow. Put me on the spot won't you.

Actually, there is no 'secret' to my success. What's the old saying? The harder you work the more luck you have….. Just kidding… I do quite bit of SUP training. In addition, I cross-train with outrigger paddlers in Fort Lauderdale, the Lanakila Iki Outrigger Canoe Club. I also do a bit of strength and conditioning out of the water. I just started working with a strength and conditioning specialist as well as a sports nutritionist to improve my training/performance and health.
SNI: What is the most difficult thing (physically) about SUP racing?
Helga: One of the most difficult things is dealing with the unpredictability of the weather. Which way is the wind blowing, is the water choppy, are there sharks in the water (ok, just kidding, there aren't really any), etc. The other part is dealing with the heat. Proper fueling before, during, and post-race are key.
SNI: What is the biggest misconception about SUP?
Helga: The biggest misconception is that it is a very difficult sport. Really anyone can do it if they are willing to put in some time in the water. Sure, you might fall down a few times here and there. But hey, you're in the beautiful ocean (lake or river)! You fall in; you get up and start all over again.
SNI: Do you cross-train or weight training? If so, describe briefly what you do.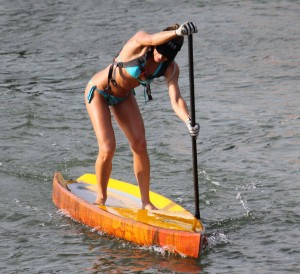 Helga: Yes. I just started a new program in which I'm doing a combination of traditional weight training and functional training. For instance, if you look at the stand-up stroke, you'll notice that it requires muscular endurance and balance of the legs combined with a strong core. In addition, much of the weight training work I do in the gym focuses on shoulder extension (to get the back muscles), the core, and lower body. Also, I mix in a bit of 'instability' work. For example, I might stand on an unstable surface while doing single arm cable rows to mimic the instability of being on a board in an ocean that is constantly moving.
SNI: Do you take any supplements to assist you with your training?
Helga: Yes, my sports nutritionist (Jose Antonio PhD) helps me quite a bit with my diet and supplement program. For instance, I take creatine and beta-alanine.  I'm no expert on supplements so I rely on the advice of my sports nutritionist.  I guess beta-alanine will help in dealing with the acid build-up from intense paddling; for example, when I do intervals on the water, I've noticed that they feel easier after taking beta-alanine for several weeks.  I also take creatine for overall power and to help me recover.  I am also a big fan of fish oil and take that religiously (the Original Nutritionals brand).  That and a multivitamin have done wonders for me; since I started taking it back in January, I haven't been sick once, and I feel that those supplements help make my immune system strong . I try to eat clean, but sometimes I just eat my sweets.  It's my weakness.  As I peak for a race, I clean my diet up a bit and I'll notice my percent body fat drop into the low teens.  Usually my body fat % is in the mid-teens.
SNI: If you could be the BEST in any sport (besides SUP) what sport would that be?
Helga: I'd love to be a skipper or captain of an offshore sailing race like the Volvo race.
SNI: Which athlete do you admire the most?
Helga:  Formula 1 driver Ayrton Senna.  He was a 3-time Formula One world champion.  Amazing athlete…and his attitude towards racing and outlook on life is great.  I highly recommend the movie/documentary "Senna" to anyone.
About Helga Goebel
Age: 35
Location: Fort Lauderdale, FL
Nationality: Brazilian Title: Professional Stand up Paddle boarder
Sports: Swimming, Surfing, Diving, Fishing, Sailing, Wakeboarding, Kitesurfing, Snowboarding, Stand Up Paddleboarding.
Sponsors: Riviera Paddlesurf, Original Nutritionals
My Story: My interest in water sports began with a windsurf when I was 16 years old. My father used to windsurf and I couldn't wait to learn it. When I finally did learn it, I used to learn how to jibe, water star, beach star all from the pictures on the American windsurf magazine (I didn't speak English back then). And then when I moved to Fort Lauderdale one day I was driving down US-1 and I saw Water-Play (it was the biggest windsurf store at that time, they were in business for more than 15 years) and I thought to myself, why not ask for a job. So it eventually led me to employment at Water-Play for over 7 years. While working there it took me awhile to try kitesurf because the kites weren't safe when they first came out. After a couple of years and the progression of the technology on the kites, they finally became safe and I decided to give it one more try and I have been kiting since then. Water-Play was sold so I became partner with Neil Hutchinson at the Fort Lauderdale Tiki Beach watersport concession for one year. That's when I finally got to try Stand Up Paddle Board (AKA SUP) and since that I have try to get in the water every day for fitness, to look at the sea life, dive, surf and race.  My first SUP race was a life guard paddle series, I loved it so much that I looked for other races and nowadays it is a race pretty much 52 weeks out the year. So this is my story, and I have a lot more to tell you.
Recent Races
2011 SUP Splash 1st women's division
2011 Quicksilver/Kam Islander Classic Race #3, 6 mile, Pompano Beach  1st women's division
2011 Quicksilver/Kam Islander Classic Race #2, 6 mile, Pompano Beach  1st women's division
 2011 Orange Bowl Paddle Championship 5 mile , Miami , Florida – 1st Women's Division
2010 Key West SUP Classic 12 mile, Key West , Florida- 1st Women's Division
2009 Surf World SUP Championship Series, Florida -1st Women's Division