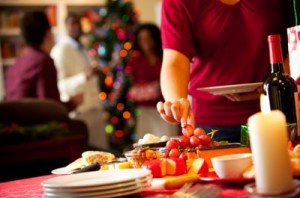 As the holidays approach us it is inevitable to believe that avoiding pumpkin pie and social gatherings is a likely option. Tis the season, as they say, to eat like crap and completely abandon our fitness goals. "I'm too busy," "I spent too much on the holidays to invest in my health," and "I'll wait until the New Years to exercise" have become the go-to hackneyed gestures. Just as quickly as one pulls out the credit card for a Black Friday transaction these same people pull out similar excuses.
Excuses no more!
1) "Paradigm shifting:" Since the holidays are a time of social gluttonistic gatherings, shortened days and indoor recumbent "exercise" (sitting) I encounter my clients always telling me that they don't have time to exercise. Plain and simple. To combat lethargy and excessive weight gain one should focus on a paradigm switch from "I need to exercise AT LEAST 2-3 times a week" to "I'll exercise only two, maybe three times a week." By simply changing the mindset from perceiving winter fitness as meeting a requirement to simply as a privilege the stress induced from missing workouts isn't as damaging. Also, it gives the exerciser more autonomy in WHEN and HOW their workouts come about. This allows for more freedom of training without feeling so committed to exercising as a means of holiday damage control. I find that clients are more likely to exercise on their own when they don't feel so obligated.
2) "Tis the season to maintain:" To those who don't have time to exercise 4+ times a week — stop worrying about getting in so many workouts. The last thing we want from our clients is for them to feel so pyschologically blemished from missing a workout or two. Instead, focus on maintaining throughout the winter. This is the perfect time of year to be efficient with your workouts by breaking down your training into two, maybe three sessions a week for under 60 minutes. Allow the clients more freedom in how they spend their holidays; plus, it serves as a way to teach them time efficiency with exercise along with allowing them flexibility. This is when I often advise my clients to experiment with different styles of training or coach them to break their workouts into upper/lower splits composed of supersets with a mixture of HIT. Besides, when they only have to train 2-3 days tops, they don't feel married to training.
3) "Just say no…..or nah, I'm good:" One of the problems many of us face during the holiday times is being pressured to eat those sugary, taste-so-darn good goodies. Yes, I absolutely love cookies and pie, but it's perfectly fine to decline ingesting more than I should even when the host of a holiday shindig offers. Remember, when party hosts ask you to try their cookies it's simply because they are being polite (or have an ulterior motive mwahahah!). Next time you're at a holiday get-together and they implore you to gorge simply say, "man, those sure do look tasty, but I'm already stuffed on all of the other stuff you have! (optional: insert laughter) " or "I'm definitely getting some of this to-go." Both work and yet you don't come off as a dietary elitist. It's not necessary to elaborate beyond this as you have made it clear that you appreciate their kitchen endeavors. It also puts off the vibe that you have already liberated yourself to the snack tray (even though we all know you didn't, but that's our secret).
Bio:
Justin Groce has been a personal trainer and strength & conditioning professional for over five years servicing middle Tennessee. He is a Certified Strength and Conditioning Specialist (with distinction) from the National Strength and Conditioning Association (CSCS*D – NSCA), a Certified Personal Trainer from the American College of Sports Medicine (CPT – ACSM), a Certified Sports Nutritionist from the International Society of Sports Nutrition (CISSN – ISSN), holds a master's degree in education and a bachelor's degree in health and human performance.
Justin is the current owner/operator of www.JustinGroce.comwhich educates on nutrition, recipes, supplementation and exercise training protocols.
He has a 2nd degree black belt in Tae Kwon Do, a 2nd degree black belt in Tang Soo Do and a 2nd degree black belt in Shorin-Ryu. Additionally, he enjoys coaching clients with their nutrition and strength training programs to maximize performance.