The nutritional supplement industry is a multibillion-dollar industry full of products claiming enhanced performance, quick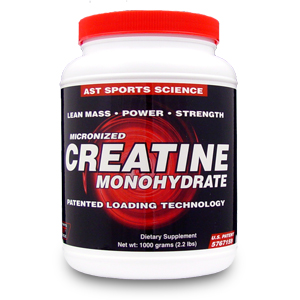 weight loss, increased longevity, and better health. One of the ubiquitous supplements in the sports nutrition field is creatine. In the United States alone, creatine-containing dietary supplements make up a large portion of the estimated $2.7 billion in annual sales of sports nutrition supplements1. Despite its widespread use, creatine supplementation is still a controversy amongst athletes, researchers, and clinicians regarding its efficacy and safety.  In order for you to make a well informed stance on creatine supplementation I shall review the role of creatine in the body, the research surrounding its efficacy in performance enhancement, and the potential side effects of creatine supplementation. 
What is Creatine and What Does it Do?
Creatine is similar to protein in that it is a nitrogen-containing compound, but is not a true protein.  In the nutritional biochemistry world it is known as a "non-protein" nitrogen. It can be obtained in the food we eat (typically meat and fish) or formed endogenously (in the body) from the amino acids glycine, arginine, and methionine3.
Creatine is a key player in the phosphagen energy system, the primary source of ATP (the main energy substrate in our body) during short-term, high intensity activities. Creatine exists as both free form creatine and phosphocreatine in the body.  Phosphocreatine (PC) functions as a "storehouse for high energy phosphate"2. PC functions to replenish ATP in muscles that are rapidly contracting by transfering a phosphate group to the ADP that was formed from the hydrolysis of ATP for energy in the contracting muscle. When our muscles run out of creatine, our short-term, high intensity energy system shuts down and our muscles are no longer able to produce force.
Courtesy of Advanced Nutrition and Human Metabolism (citation 2)
Phosphocreatine and creatine do not remain in muscles for an extended period of time and are cyclized in a non-reversible reaction to form creatinine, which is then processed by the kidneys and expelled from the body in the urine2.
The use of creatine as an ergogenic aid is based upon the theory that one can increase the saturation of creatine in the muscle through supplmentation. Theoretically, increased creatine in the muscle will increase performance in short, high intensity exercise by increasing the capactiy of our phosphagen system.
What Does the Research Say?
Creatine is one of the most wide researched supplements. In fact, a google scholar search for the terms "creatine supplemenation" yielded 6,740 scholarly articles and a PubMed search yielded 562 articles. While a full analysis of these studies is beyond my capability the findings amongst the literature is relatively conclusion in regards to the efficacy of creatine as a ergogenic aid and its safety.
Supplementation and Muscle Creatine Levels
According to recent research, 10-40% increases in muscle creatine and PC stores have been observed with creatine supplmentation4,5. These results were observed after a specific "loading" protocol was observed. This protocol involves ingesting roughly .3 g/kg/day for between 5 and 7 days (roughly 20 grams a day in 5 gram increments) and 3-5 g/day following the first 5-7 day period5,6. While other protocols have been suggested that involve no loading phase and "cycling" on an off creatine supplemenation, they have not shown to be quite as effective in maintaining increased levels of muscle creatine levels7.
Supplementation and Performance           
Creatine supplementation appears to be the most effective legal nutritional supplement currently available in regards to improving anaerobic capacity and lean body mass (LBM).  The research surrounding the ergogenic effects of creatine supplementation is extensive with hundreds published studies looking exactly at those two outcomes. Approximately 70% of the research has reported a significant (P<.05 for the stats people out there) increase in exercise capacity, while none have reported an ergolytic effect8.
In both the short term and long-term, creatine supplementation appears to enhance the overall quality of training, leading to 5 to 15% greater gains in strength and performance8,9. In addition, Nearly all studies indicate that "proper" CM supplementation increases body mass by about 1 to 2 kg in the first week of loading. In the International Society of Sports Nutrition position stand on creatine the authors state, "The tremendous numbers of investigations conducted with positive results from CM supplementation lead us to conclude that it is the most effective nutritional supplement available today for increasing high-intensity exercise capacity and building lean mass"8. I guess the case is closed on that front.
Is Creatine Safe?
 For years the media has portrayed creatine as a dangerous, not well understood supplement and those that were using it will "pay the piper" in the end. Unfortunately for the mass media, they arrived at their conclusions from a small sample size, namely the ever famous experiment of "n=1".  The claims in the news are often that creatine can cause dehydration, injury, GI distress, and even kidney or liver damage. However, to date there have been no controlled trials that have shown creatine supplementation to cause dehydration, GI distress, injury, nor kidney or liver damage. The only clinically reported side effect of creatine supplementation is weight gain, which typically, is a goal of creatine users.
The notion that long-term effects of creatine are still unknown and the supplement is not understood simply shows a lack of knowledge and doing some reading. It could be argued that "supplemental" creatine has been around since man began eating meat, which according to recent research was more than a million years ago11.  Research on creatine actually began more than 40 years ago when it was experimentally used to treat heart disorders and improve heart function during heart attacks12.
To wrap up this question I will simply say that the research has shown that creatine appears to be safe when it is used in healthy populations and taken within recommended guidelines. However, like anything else in life, it may be harmful if taken in excess.  In addition further research in this area would be beneficial to determine if it is safe in non-healthy populations.
1.     What is the role of creatine in the body?
Creatine acts to improve our anaerobic work capacity by rephosphorylating ADP to ATP during short-term, high intensity exercise.
2.     Is creatine effective in enhancing performance?
To date, creatine is the most effective legal supplement available for increasing high-intensity exercise capacity and building lean mass.
3.   Is creatine supplementation safe?
No controlled trials that have shown creatine supplementation to cause deleterious side effects, with the only clinical side effect recorded being weight gain.
Is Creatine Ethical?
The last point of contention surrounding creatine supplementation is whether it is ethical or not. As my minor in my Ph.D. program is "sport ethics" and my major professor, Dr. Sharon Stoll, is one of the most renowned sport ethicists in the country I do have some thoughts on the ethics of creatine use, but that is a whole separate story, and perhaps I can convince her to write a paper on it with me.
Unless you are an athlete under the jurisdiction of a specific governing body, i.e USADA, WADA, or the NCAA, whether or not you decide to take creatine is a choice for you to make. I do not believe there is a right or wrong answer here as each person has their own views and perspectives on things, something I value quite highly about humanity. However, hopefully after reading this you have a better idea behind the big questions regarding creatine supplementation and can make a fully informed, educated, and well thought out decision.
References
NBJ (2009) Sports nutrition & weight loss report. Nutrition Business Journal, vol XIV, September edn., Boulder.

Gropper, S. S., Smith, J. L., & Groff, J. L. (2005). Advanced Nutrition and Human Metabolism. Belmont, CA: Thomson Wadsworth.
Williams MH & Branch JD. Creatine supplemenation and exercise performance: an update. J Am Coll Nutr. 1998, 17, 216-213.

Greenhaff PL: Muscle creatine loading in humans: Procedures and functional metabolic effects.

6

th

International Conference on Guanidino Compounds in Biology and Medicine

. Cincinatti, OH. 2001

Kreider RB, Leutholtz BC & Greenwood M. Creatine. Nutritional Ergogenic Aids. CRC Press LLC: Boca Raton, FL, 2004,  p 81-104
Stout J, Eckerson J, Ebersole K, et al. Effect of creatine loading on neuromuscular fatigue threshold. Journal of Applied Physiology. 2000;88(1):109–112.
Candow DG, Chilbeck PD, Chad KE et al., Effect of ceasing creatine supplementation while maintaining resistance training in older men. J Aging Phys Act, 2004, 12, 219-231.
Buford T, Kreider R, Stout J, et al. International Society of Sports Nutrition position stand: creatine supplementation and exercise. Journal of the International Society of Sports Nutrition. 2007;4(1):6.
Kreider RB, Effects of creatine supplementation on performance and training adaptations. Mol Cell Biochem 2003. 244, 298-307.
Kreider, RB, Creatine in sports. Antonio, J., Kalman, D., Stout, J. R., Greenwood, M., Willoughby, D. S., & Haff, G. G. (2008). Essentials of Sports Nutrition and Supplements. Humana Press.
Domínguez-Rodrigo M, Pickering TR, Diez-Martín F et al., Earliest Porotic Hyperostosis on a 1.5-Million-Year-Old Hominin, Olduvai Gorge, Tanzania. PLoS ONE, 2012; 7.
Neely, Rovetto M, Whitmer J, Morgan H. Effects of ischemia on function and metabolism of the isolated working rat heart. American Journal of Physiology. 1973;225(3):651–658.
BIO
Brad Dieter, MS, CISSN, CSCS is a Doctoral Student at the University of Idaho, Movement Sciences; BradD@uidaho.edu