By Jose Antonio PhD
Let's face it.  The weight loss category is huge, no pun intended.  Consumers and scientists are constantly in search of the latest greatest fat-melting, metabolism-jacking supplement.  The death of ephedra was certainly a sad swan song for all of us who loved the vaunted caffeine-ephedra stack.  However, you may have noticed that bitter orange (example: as the patented Advantra Z) is becoming the go-to ingredient in many of the top sports nutrition brands lately. New products have launched recently by Nutrex, BSN, Labrada, Cellucor, Max Muscle, and Heuer Research with more R & D as we speak. With DMAA going the way of the Dodo bird and T-Rex and a dearth of other new ingredients, bitter orange has been increasingly selected as active component of new products. Pre-workout powders are particularly likely candidates to add bitter orange to their formulas.  So what gives?  Is bitter orange the answer?  Well let's examine the facts.  And the truth shall set you free.
First of all, bitter orange (aka citrus aurantium extract) and its principal protoalkaloidal constituent p-synephrine is widely used in weight loss and weight management as well as in sports performance products. However, let's get to the point.  Does it work and is it safe?  Well as with anything you consume, context is everything.  Don't fall for the intellectually lazy arguments claiming that this stuff will kill you.  Heck, too much water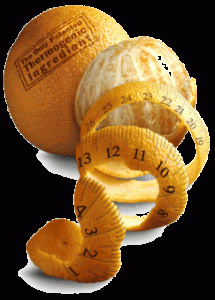 will kill you; too much caffeine will kill you.  But nobody with an IQ of at least 85 is calling for a ban of Evian and Starbucks.  According to a recent scientific report, "the use of bitter orange extract and p-synephrine appears to be exceedingly safe with no serious adverse effects being directly attributable to these ingredients.1"
And in an elegant review published in the International Journal of Medical Sciences, scientists examined the entire body of science to see indeed if bitter orange is both safe and effective.  They examined over 20 studies totaling about 360 subjects with more detail than Google Maps.  They found that in general, bitter orange extract alone (p-synephrine) or in combination with other ingredients such as caffeine did not produce significant adverse events as an increase in heart rate or blood pressure, or alter electrocardiographic data, serum chemistry, blood cell counts or urinalysis. In fact, modest weight loss was observed with bitter orange extract/p-synephrine-containing products when given for six to 12 weeks.2 
Perhaps the best use of bitter orange is in combination with caffeine.  A study done at Baylor University examined the effect of a fortified coffee (JavaFit) that contained 450 mg caffeine, 1200 Garcinia cambogia, 360 mg of citrus aurantium extract and 225 mcg of chromium polynicotinate on aerobic and anaerobic performance measures in recreationally-active male and female coffee drinkers. They discovered that JavaFit enhanced post-exercise fat metabolism.3
Scientists at Montana State University investigated the cardiovascular effects of a product containing caffeine, bitter orange extract (p-synephrine) and green tea extract in mildly overweight individuals. Fourteen young female and nine male subjects volunteered in this randomized, placebo-controlled, crossover, double-blind designed study. They ingested one capsule that was either a non-caloric placebo or a dietary supplement that contained 13 mg p-synephrine and 176 mg caffeine.  So what did they discover? Indeed they found no effects of the dietary supplement on heart rate, systolic and diastolic blood pressure or mean arterial pressure. Thus, consuming a product containing bitter orange extract, caffeine and green tea extract does not lead to increased cardiovascular stress and that fat burning may increase in certain populations.4
Certainly, the data does indicate that bitter orange (i.e. p-synephrine) alone or in combination with caffeine doesn't pose any undue health risk.  In fact, no adverse effects have been directly linked to bitter orange or p-synephrine.  For weight loss to occur, it is likely that a treatment period of at least 12 weeks is required. 
A report from Intertek Cantox (Mississauga Ontario Canada) stated that "the use of p-synephrine alone or in combination with caffeine within specified limits, is not considered to pose significant concerns."  Overall, they suggest that up to 60 mg of p-synephrine alone or 40 mg of p-synephrine with 320 mg of caffeine is not likely to cause any adverse effects. 
To top it off, Health Canada, which is known to be more strict than a cloistered nun, agrees that the 'botanical material Bitter Orange peel, at the doses typically used in herbal medicine and food, is not considered to pose any risk to the health of consumers."
Conclusion:  The existing data indicate that bitter orange (particularly in combination with caffeine) can increase energy expenditure and is safe when used within the normally suggested doses. 
References
1.            Stohs SJ, Preuss HG, Shara M. The safety of Citrus aurantium (bitter orange) and its primary protoalkaloid p-synephrine. Phytotherapy research : PTR 2011;25:1421-8.
2.            Stohs SJ, Preuss HG, Shara M. A Review of the Human Clinical Studies Involving Citrus aurantium (Bitter Orange) Extract and its Primary Protoalkaloid p-Synephrine. International journal of medical sciences 2012;9:527-38.
3.            Roberts MD, Taylor LW, Wismann JA, Wilborn CD, Kreider RB, Willoughby DS. Effects of ingesting JavaFit Energy Extreme functional coffee on aerobic and anaerobic fitness markers in recreationally-active coffee consumers. Journal of the International Society of Sports Nutrition 2007;4:25.
4.            Seifert JG, Nelson A, Devonish J, Burke ER, Stohs SJ. Effect of acute administration of an herbal preparation on blood pressure and heart rate in humans. International journal of medical sciences 2011;8:192-7.