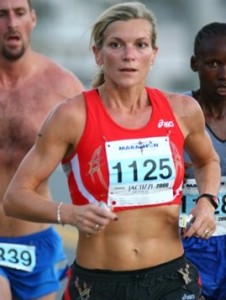 SNI:  What is the single athletic accomplishment that you are most proud of?
Sonja:  If you had asked me this a month ago I would have said qualifying and participating in the the Olympic Trials (1500m) in 2000. But March 4th I set a new Masters World Record in the women's Indoor Mile running 4:44.81 at Virgnia Tech. I am most proud of that performance because I feel I am proving to myself and hopefully others that age is not a barrier to continual improvement in sports. (Editor's note:  Now that's FAST!)
SNI: As a runner over 40 (but certainly looking not a day over 25 years of age!), what are the biggest adjustments you've had to make as a Masters level competitive runner versus when you were competing/training in college?
Sonja:  Probably what I notice most is that I seem to have more little aches and pains so I have to take the time for more "maintenance" work such as icing, stretching, foam rolling, massage, etc. I also have found it is best to rest more…for example I used to be able to go hard every other day, but now I do best with 2-3 days between hard workouts or races.
SNI: What is the single most common myth held by runners in general?
Sonja:  I find it is similar to a myth that exists in the fitness world: That more mileage is always better (in the fitness world a common misconception is that more cardio is the best way to lose weight and get lean). I have found, especially as a Masters athlete, that quality vs. quantity of my training is most important and rewards me with better races. Of equal and related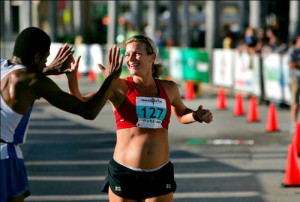 importance is a focus on my speed and efficiency via work both on the track and in the weight room.
SNI: Tell the audience supplements you take and what would be considered your 'Perfect Meal.'
Sonja: I learned this from the best (you!).

I still follow the principals Dr. Antonio taught me nearly 8 years ago and get great support from our local Max Muscle nutrition store owned by Jamie Free. My daily regimen includes Glutamine powder, Beta Alanine split dose throughout the day during periods of consistent interval training, BCAAs before and after hard workouts (some of these supplements are already in my pre-workout drink formula called Fast Fuel by RSP nutrition and in my recovery drink which is ARM from Max Muscle.

I also use a Max Muscle brand daily liquid multi-vitamin called Vita Cell as well as their liquid Fish Oil/ EFA supplement. I am a big believer in fish oil and Vitamin D! Finally I take a pro-biotic at night to aid in digestion and immunity. My perfect meal is salmon grilled or baked on a cedar plank with a side of brown rice and a side of steamed or grilled vegetables. I love fish!
SNI: What projects do you have planned in the world of fitness/running?
Sonja:  I plan to continue to use www.SonjaRuning.com to share my knowledge and passion for running and coaching. But I do have a new fitness career project in the works with my training partner and fellow fitness professional, Chris Davis . We are creating a venue to help train and prepare anyone who wants to finally get out there and conquer their "bucket list" for a fitness or adventure type activity. Our plan is to coordinate with the best domestic and global locations and sports/activity entities in the business. No matter what your "dream goal" is in the fitness or sports world, we will help you achieve it. Anything from Mountain Biking in Europe to White Water Rafting down the Colorado River or simply preparing for your local Triathlon or even a golfing or fishing event…we will make sure your are 100% ready to participate from a fitness and nutrition standpoint. Celebrity and skill specific trainers will be recruited for the activities requiring that, but if you aren't fit enough to put that skill to good use you won't enjoy your experience. That's our job: to prepare you to go the distance and also to coordinate the effort from all of our contacts in the industry. We are calling in Fit Journeys and actively seeking sponsors and strategic partners now.
Bonus question: If you could be a Superhero, which superhero would it be?

Sonja: I'm not an avid comic book reader, but from what I remember I would probably most identify with Super Girl. I like the fact that she is extremely fast, can defy gravity…and turn back time! All good things whether you're trying to win a race as a 40+ athlete or just be "mommy" for the day!

BIO – A World Class athlete, Sonja Friend-Uhl has trained people of all ages and abilities for over twelve years. As a skilled fitness programmer, Sonja holds Personal Training Certifications with ACSM and AFAA as well as AFAA specialty certifications in Youth, Senior, and Pre-Natal Fitness. She is a registered Nutrition & Weight Loss Counselor through Diet Master Pro.  Having served as a high school, club and private running coach for years, Sonja is also USATF Level I Certified. In January 2010 she took over as Head Cross-Country Coach at Palm Beach Atlantic University in West Palm Beach, FL.  Sonja has a Bachelor of Arts Degree from the College of William and Mary. She has published fitness and running articles in Runners World Magazine and Health & Fitness News. A natural and motivating public speaker, Sonja has performed as the keynote speaker for Race Expos such as the Walt Disney World Marathon, athletic banquets, Rotary Club functions, and national TV affiliates including NBC. Sonja developed and coached dynamic fitness programs for The Athletic Club at Weston and The Athletic Club Boca Raton while serving as their Athletic Director from 1998-2003. Sonja owned and operated FIT Studio – a personal training and Pilates studio in Wellington, Florida from 2004-2009. She currently serves as the Fitness Director of Prairie Life Fitness in Franklin, TN along with her online running coaching business, www.SonjaRunning.com