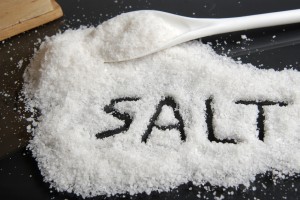 SNI: What is the most ridiculous piece of advice (diet or nutrition) that you've ever read about or heard?
Allison: Salt is bad for you.   When it comes to those who eat an all-natural diet; meaning real food that you have to prepare; adding salt could help.   It helps with electrical nerve impulses; drive muscle movement; and proper fluid regulation.  Physique competitors especially should be adding salt to their diets, as they are training frequently and drinking large amounts of water diluting their minerals, such as magnesium, sodium and potassium. Salt has now become the new 'bad' food the way everyone used to think (and some still do think) that eggs are bad for us.
SNI: You are one of handful of physique competitors who have attained the CISSN (ISSN's sports nutrition certification).  What motivates you to keep improving yourself both physically and mentally?
Allison: I have an unquenchable love of learning. I want to be able to teach my clients and give them some knowledge to make an empowered choice in their everyday lives.  Having researched some of the best trainers in the world today – the first thing that jumps out at me is their love of learning and what that comes a lot of reading and writing.  The fitness industry changes so quickly that I have to stay on top of new information.  If the best in the world read everyday in order to maintain their craft, I need to practice what the best preach – read and learn daily.
SNI: Give the SNI audience an example of the 'Perfect Meal.'
Allison: Protein Pancakes – great anytime (breakfast, peri-workout, late night, snacks) easily digestible, equal amount of protein and carbs (~25g), quick and fast to prepare, freezes, and thaws well, can be can be flavored to suit your personal tastes.
Recipe:
1 cup liquid egg whites + ½ cup dry oatmeal
Mix together & fry up like a pancake with cooked spray
Garnish with cinnamon, splenda, sugar free syrup, fruit, or mix in some chicken for extra protein, and serve with vegetables.
SNI: If a client comes to you and says "I want to lose weight."  How do you approach that (generally) from a diet/supplement/exercise standpoint?  That is, what is your general philosophy?
Allison: Vitamins and minerals, and fish oils are supplements – and depending on the clients current situation I do recommend some of the following – vitamin C, vitamin D, fish oils (~6g to start), and multivitamin, and a good protein powder.  My philosophy with supplements should do that just that 'supplement' your diet.  If you have done much of the work through your food, and have been consistent, and are lacking progression then perhaps adding a few supplements might help. People seem to jump right to the 'quick' fix in hopes that it will work more effectively that real food.
SNI: What do you hope to be doing in 10 years vis a vis the fitness/nutrition industry?
Allison: Be a guru at what I do – fat loss, training, contest preparations, help others feel comfortable in their own skin and be able to maintain that comfort.  I just recently went from high school math teacher to personal training full time.  It has been 1 year since achieving my CISSN certification.  If Malcolm Gladwell says it takes about 10 000 hours (~10 years) to become an expert.  I have about 9 years left to reach the expert level.  Maybe I can skip a few years due to my competitive experience. Having my own show seems attainable.   It would be fabulous to see a strength training show back on TV – like Kiana's Flex Appeal, have guests from within the industry on, talk nutrition, current supplements, and of course train.  Whatever it may be in 10 years, I will still be training, still eating well, and helping other do the same.
BIO – Allison Ethier, NSCA-CPT, CISSN, CanFitPro PTS – is a full time personal trainer, physique preparation coach & fitness model, mother, and fitness professional.  With over 13 years of competitive experience, her fitness achievements include: first ever Bodybuilding.com Bodyspace Spokesmodel, 2008 Arnold Amateur Fitness Champion and is the Slimquick Razor Spokemodel (www.slimquickrazor.com).  She has attended the Arnold Fitness International twice, and has dreams of attending the Fitness Olympia. She currently resides in Quebec Canada.
You can see further information on Allison Ethier at www.allisonethier.com or be apart of her fanpage at www.facebook.com/fanpage.allisonethier
Follow me on Facebook – click 'like' www.facebook.com/fanpage.allisonethier
Contact info: contactallison@yahoo.ca